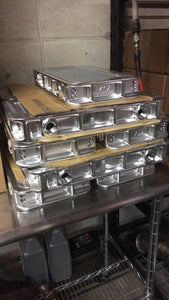 1500 HP Air to Water Billet Intercooler
These coolers are an awesome solution for packaging and simplifying your under hood layout. Track and Dyno tested to drastically reduce the intake temperatures by up to 200 deg. Utilizing 2 female -12 orb ports per sided for water feed and return, they are a direct bolt on unit for the Holley Hi ram and Mid ram manifolds. They do fit the low ram manifold if used with a LS-3 height injector. All hardware necessary to install is included. The intercooler is 2.5 inches thick. 
These do NOT fit Holley Sniper manifolds.